Hotel Terminus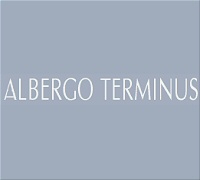 BOOKING FORM - RICHIESTA PRENOTAZIONE
---
HOTEL TERMINUS





Ubicazione: L'hotel è affacciato sul lago di Como, le cui rive sono disseminate di ville di notevole importanza storica ed artistica. Dista circa 40 minuti dall'aeroporto di Malpensa e 60 minuti da quello di Linate a Milano.


L'hotel Terminus di Como nasce dalla completa ristrutturazione di un edificio dei primi del '900 di cui ha saputo conservare lo stile, un liberty composito, e il gusto pacato e confortevole tipico di una certa aristocrazia lombarda. Il restauro e la trasformazione in hotel, molto attenti nel conservare e valorizzare le caratteristiche architettoniche di un edificio storico, sono stati accompagnati da interventi assolutamente radicali per quanto riguarda le strutture e i servizi destinati a portare ai massimi livelli comfort e sicurezza degli ospiti. Oggi l'hotel Terminus è diventato il punto di riferimento della clientela più raffinata che può godere della splendida posizione in riva al Lago di Como, nel cuore della città, a due passi dal Duomo e dalla splendida Piazza Cavour.


Camere Classic: Le camere sono tutte arredate in modo diverso, ognuna in coerenza con lo stile liberty dell'albergo, interpretato con raffinatezza dai colori della seta di Como e curato attentamente in ogni dettaglio, dai tessuti alle boiserie, dagli stucchi ai decori.


Junior Suite: E' forse la camera più affascinante dell'albergo. Ha una superficie di 32mq ed è elegantemente arredata per assicurare il massimo comfort riflettendo lo stile sobrio della casa. Dalla splendida terrazza di 45mq si gode di una vista spettacolare sul lago di Como.


Suite: La nuova suite, di recentissima realizzazione, splendidamente decorata, con vista giardino e parziale vista lago, rivela l'eleganza sottile di una raffinata dimora ed è provvista come tutte le altre camere di ogni comfort.


Tower Room: La camera più originale dell'albergo è sicuramente la "TORRETTA". Ricavata dall'antica torre è disposta su due piani collegati fra loro da una scala a chiocciola. Dispone di un balcone privato dal quale si domina lo splendido panorama del lago di Como.


Ristorante: Il "Bar delle Terme", un caffè ristorante con solo 20 coperti, offre un'atmosfera tipica da club privato. Uno stile decisamente particolare per una colazione di lavoro o una cena tra amici, con una ristorazione semplice ma molto curata. Una gastronomia che si inserisce nella tradizione della cucina italiana, sempre attenta alla genuinità degli ingredienti, ravvivandola con un pizzico di creatività dello Chef senza trascurare proposte di piatti unici, particolarmente indicati per veloci colazioni d'affari. Nella bella stagione viene aperta anche la terrazza, dove è un piacere cenare a lume di candela tra oleandri e gelsomini, di fronte allo stupendo panorama del lago di Como.


Sala Breakfast : La sala Breakfast elegantemente arredata è situata al primo piano dell'Albergo. Un ricco buffet breakfast è a disposizione dei clienti dalle ore 7.00 alle ore 11.00. Nella bella stagione inoltre viene aperta anche la bella terrazza dove è possibile prendere la piccola colazione circondati da oleandri e gelsomini.





Bar,
Camere,
Giardino/Parco,
Zona panoramica,
Parcheggio privato,
Telefono in camera,
Ristorante,
Bagno con doccia,
Tv Color,
Acc.Disabili,
Acensore,
Palestra,
Sauna,
Cassaforte,
Aria Condizionata,
Frigo Bar,
Sala Conferenze,
Si accetta Carte di Credito,
---
Dove siamo:

---
TERMINUS HOTEL





Location: The hotel is overlooking Lake Como whose shores are rich with villas of remarkable historical and artistic importance. The hotel is a 40 minute drive from Malpensa Airport and a 60 minute drive from Linate Airport in Milan. Agno Airport (Lugano) is about a 50 minute drive from the hotel while it takes at least 90 minutes to reach Orio al Serio (Bergamo).


The Terminus Hotel was born out of the complete restructuring of an early 19th Century building with its composite liberty style and its calm and comfortable taste typical of a certain Lombard aristocracy. The careful renovation, which preserved the architectural characteristics of the historical building, was accompanied by absolutely radical reforms in the structures and services in order to provide guests with the highest level of comfort and safety. Nowadays the Terminus Hotel is a landmark for the more refined clientele who can enjoy the hotel's splendid position on the shores of Lake Como, a stone's throw from the Cathedral and the magnificent Cavour Square right in the heart of Como.


Classic Room: Each bedroom is furnished differently but all the rooms are in keeping with the liberty style of the hotel, with lively colours and prized fabrics, made from the finest of Como lake silk and everything is looked after down to the smallest detail from the fabrics to the boiserie and stucco work.


Junior Suite: It may perhaps be considered the most charming room in the hotel. It has a surface area of 32m² and is elegantly furnished to ensure maximum comfort while at the same time reflecting the sober style of the hotel. There is a spectacular view of Lake Como from its splendid 45m² terrace.


Suite: The new suite, which was completed very recently, is beautifully decorated and has a garden view as well as a partial como lake view. The suite reveals the subtle elegance of a refined residence and, like all of the other bedrooms, is equipped with every comfort.


Tower Room: The "Tower room" is without a doubt the most original room in the hotel. Located in the ancient tower, it is set out on 2 levels with a narrow spiral staircase leading from the lower level to the upper one. It has a private balcony with a splendid panorama of Lake Como.


Restaurant: The "Bar delle Terme", a café restaurant with seating for just 20 people, offers all the warmth and atmosphere of a private club. It is the perfect place for a business lunch or a dinner with friends where you can sample the finest of traditional Italian cuisine. In the good weather the restaurant service is extended to the terrace where you can enjoy your meal by candle-light overlooking the lake amid oleander and jasmine.


Breakfast Room: The breakfast room is elegantly furnished and is situated on the ground floor of the hotel. A rich buffet breakfast is served from 7:00 to 11:00. In the good weather guests can have breakfast on a beautiful terrace surrounded by oleander and jasmine.





Bar,
Rooms,
Garden-Park,
Panoramic Area,
Private Parking,
Phone in room,
Restaurant,
Bathroom with shower,
Tv Color,
Acc.Disabili,
Lift,
Palestra,
Sauna,
Safe,
Conditioned air,
Minibar,
Conferences Room,
Credit Card accept,
---
Where we are:

Hotel Terminus
Lungo Lario Trieste, 14, Como, CO, Italy